Interview by Devon Harris
Photos provided by Jackie Stratton

On a snowy night in December, I drove to meet Jackie Stratton, owner of Cedar Grove Sauna, at her property in Montville. She had proposed that we do our interview inside her sauna and, while I wasn't about to turn down a free session, I wasn't sure how my technology would fare. Before running out the door, I—ever the optimist—filled a Cotopaxi fanny pack with frozen ice packs, zipped my phone inside with the recorder poking out, and hoped for the best. As it turned out, I needn't have worried—my technology stayed cool on the floor of the sauna. And Jackie was right: There was something predestined about our conversation happening in the small, dark, heated room. Lit only by candles and the fire of the wood stove, we undressed, sat across from one another, and quietly discussed the magic of sauna as we experienced it firsthand, together.
Where are you from?

I grew up in New Hampshire. I went to college in Colorado and lived out west for a bit, but my dad's family's from Maine so I knew I wanted to live here at some point. I thought it was just for the summer, but that was a decade ago.

Did you move right to Montville? What was it like then?

No, I moved to Waldoboro. I was doing an AmeriCorps position with a couple of different land trusts. I think Waldoboro is a lot different now, but when I moved there it was initially really challenging to make friends. I'd see a car drive by with someone under the age of 50 and be, like, "Where do you live?!" But then you kind of peek into this world with lots of vibrant, young people, and it's been lovely ever since.

I can relate to that feeling. Who or what introduced you to that community?

When I first moved to Maine, I didn't have a place to live, so I set up a few Couchsurfing places. Have you heard of Couchsurfing?

I've done it, yeah.

The first person I met became a really good friend. He grew up in the area and so every time he invited me to do something, I went. It definitely takes time. I think Mainers are very private and a lot of socializing doesn't happen in public places, and so in order to be included in that you have to be invited to so-and-so's house. So it's just, like, stacking up enough invitations to really feel like you're part of the community. I've bounced around since then—Rockland, Appleton …—and then I moved in with my partner here when the pandemic started.

When were you introduced to sauna?

I was back in New Hampshire after college and got invited to a sauna in the Durham area. I went and it was a group of women and they sang songs and then potlucked after, followed by the men. That was my first glimpse into the potential magic of it.

The first full winter I was here, a group of friends and I renovated a friend's woodshed into a sauna. A lot of them lived off grid without water, so it was like their weekly bath. We'd get together every Sunday and sauna and potluck, and there was a big pot of water on the stove, with a bucket to take your bath, and we'd feast afterwards. We did that every Sunday from September through April for maybe three years. It made winters not just tolerable, but amazing. It was a really intimate space to be in with friends.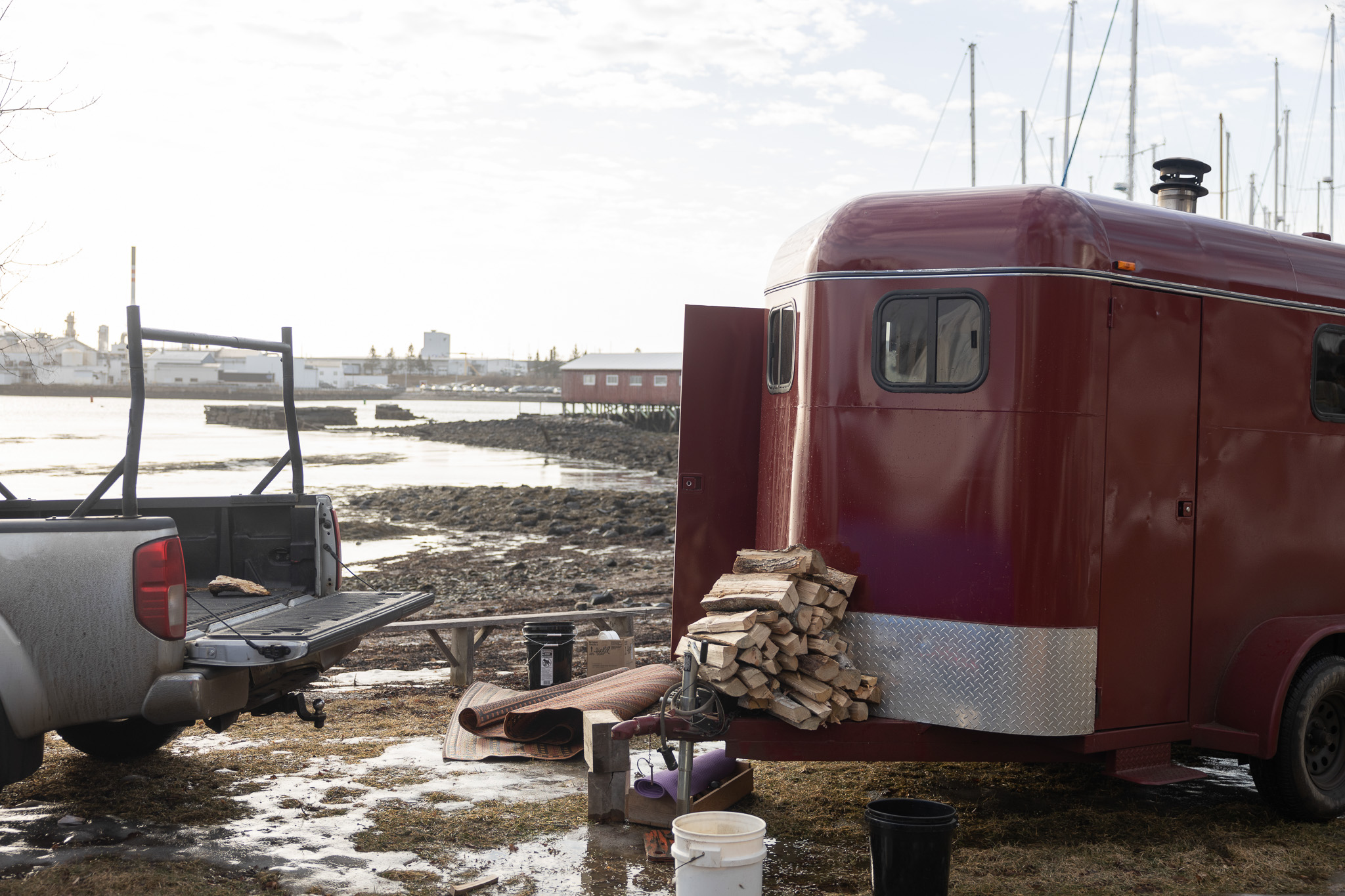 When did you build your own?

In the winter of 2019 I heard about somebody on the West Coast who had a mobile sauna. I thought that would be amazing here, because, of course, we have the ocean to plunge into. So that summer, in 2020, I bought a horse trailer. I had some pretty basic carpentry skills, but really didn't know anything about building. And, on a horse trailer, everything is curved, nothing is symmetrical or square. It was a huge challenge. It was coming up to November and I hadn't made much progress. But I had set up a plan to leave my full-time salaried position in December. We had a sauna on the property, so I thought, "I wonder if anyone will come here?" So on winter solstice, I put out an invitation on Instagram. People just started booking. I was, like, "OK, this is a thing." So over the course of two days, I figured out how to start a website and create a booking system. All while I was finishing up my other job. It all happened very quickly.

When did you finish building the mobile sauna?

Not until January of 2021. And, actually, the sauna that we started with here was owned by a friend. She had moved off the property but hadn't moved the sauna yet, so I asked her, "Can I start a business in your sauna?" And she's, like, "Yeah, but I want it back." So in the summer I shipped it off to her and bought an unfinished shell to finish myself. That's what we're in now.

I saw that you're currently building a second sauna on the property. Is the new one going to have a similar design?

It's going to be larger. This one is more of a womb space. There are no windows in here, which is more traditional. You're being hugged by walls of cedar. The new one, it's on a place on our property where there's more of an expansive view, so there will be windows. But it'll have many of the same design elements, the same ventilation. I learn a lot with each sauna I build, of course.

I wanted to talk with you about winter. I grew up in Maine and then lived mostly out west until the pandemic. I started to develop this fear of winter the longer I was away. One year, I got a membership to the Y and started using the sauna every day. I fell in love with it. I was, like, "OK. I think I could move back to Maine if I had access to a sauna."

I call it "the melt." People come here and they're all closed in on themselves. And then when they leave, some aren't wearing shoes. They might not have put their pants back on. Their shoulders are dropped. They're just, like, sauna drunk. Totally blissed out. And here, unlike at a gym, you're outside in a bathing suit or naked in an environment you would never imagine yourself in. I think the best times to sauna are when the weather's the worst—if it's wildly windy, if it's pouring buckets, if it's a blizzard—because you're out there getting kissed by something that you would normally run and hide from. You have this layer of warmth over your whole body—it's like a superpower.

I found a quote that read, "Bathing is best enjoyed in a place where you feel safe enough to put aside your social roles, relax your body armor, and open your psyche to the moment." It feels like that's what you're describing.

I think it's a place for a lot of transformation to occur. There's a Finnish proverb that is something like, "All people are created equal, but no place more than in the sauna." You really succumb to the heat.

Besides milder winters, I think I was drawn to the West, at least in part, because I was pushing back against the culture I grew up in, which felt so serious. Working hard for the sake of working hard. I wonder if you identify with this, having gone to school in Colorado.

Yeah. It was more play.

Here, sauna almost feels like this rebellious act of just reveling in pleasure and leisure.

Absolutely, yeah, I feel that too. When I arrived in Maine, I had the Western vibe of, like, "We play hard and we follow our passions." But so many people here are too busy working to do those things. It's amazing to have something to offer people that is about deep rest. Really hard working people are allowing themselves 90 minutes to just melt their bodies.
And then there's the communal aspect. I was thinking how even at the Y, I made so many friends in the sauna.

I just started offering communal sessions, which was always the plan, but, of course, I chose not to during the pandemic. It's been so well-received. The first one was a queer community session, and one of them told me that all six of them, who hadn't known each other previously, had a barbecue together a few weeks later. I'm really interested in offering these opportunities for people to meet who already have some common ground, but just don't know each other because they live in Maine.

Especially in the winter, when that isolation can be so emphasized. You're drawing people out of their homes.

Right.

I might go take a plunge …

Yeah, I'm ready. A funny thing about socializing in the sauna is that no two people are ever in the same flow.

Is there a certain amount of time that you try to stay in the cold bath?

No. I'm pretty anti-statistics and numbers. Sometimes I'm in for three minutes and sometimes it's, like, five seconds. But a magical thing happens when you go back in the sauna after getting really cold. You actually don't experience temperature.

I think it's amazing that, with the mobile sauna, people are actually excited to jump in the ocean in the middle of winter.

I'm very committed to having a water element wherever I bring the mobile sauna. One of the goals is just to provide a time and place for people to interact with the ocean. Whether it be watching it, smelling it, or getting in. Especially in winter. I think people might drive to a place where they can see the ocean and sit in their cars—I've done that a lot—and so it really resonates with people to have a safe, comfortable place to be by the water.

There's also a large amount of people who are getting into cold water dips in the winter; each year it's more and more. And it's something that people like to do collectively, because it's safer and you have, like, accountability buddies. The sauna makes it possible for them to do, like, seven dips, as opposed to one.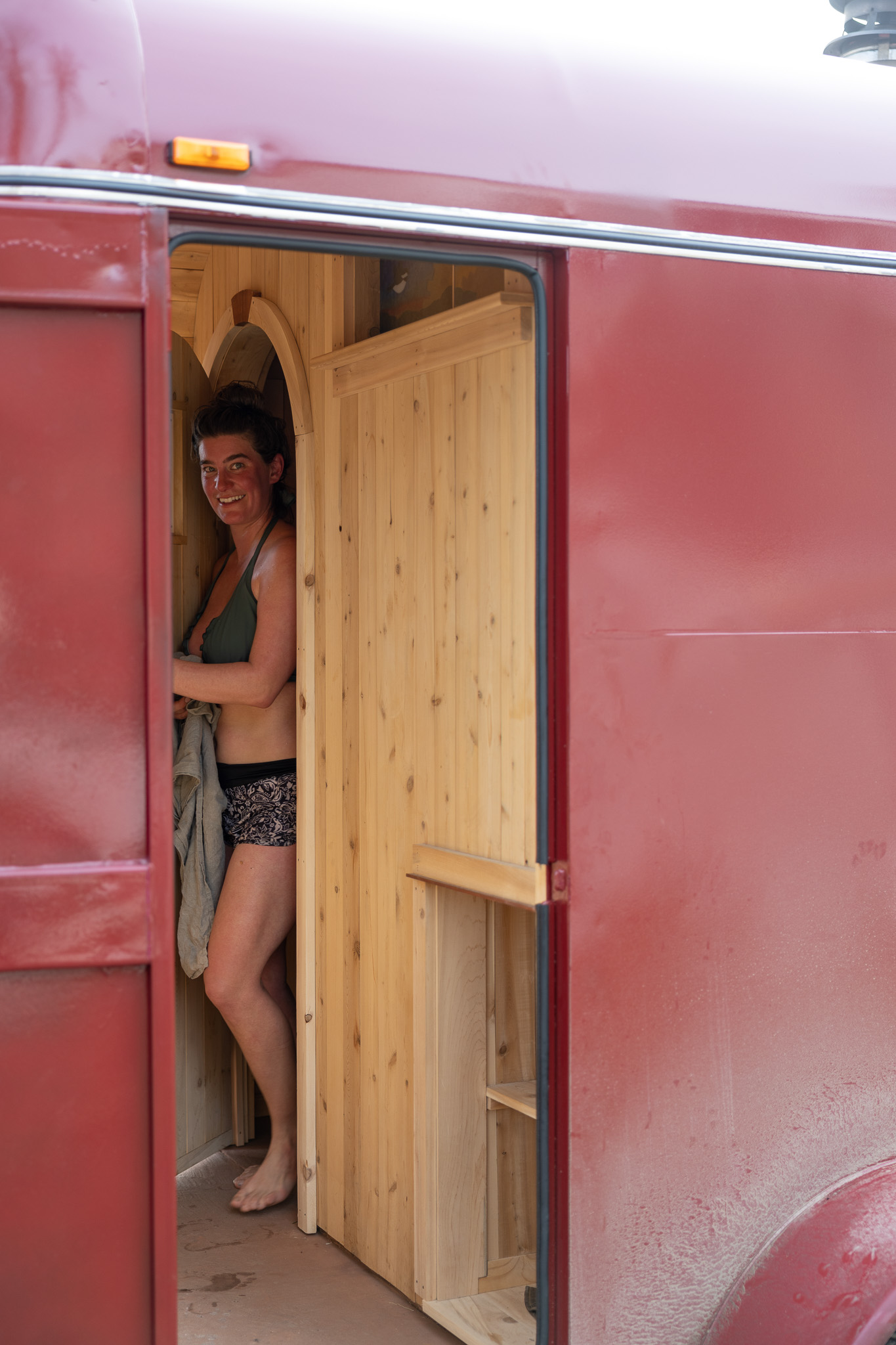 Do you have thoughts on the element of nudity in the sauna?

Yeah, I do. I have a few formative youth experiences related to nudity. My best friend growing up was born on Martha's Vineyard and we would go stay with her family sometimes. Martha's Vineyard was, I think, a lot like Maine in that it felt like a really safe place. And so there was a bus system and we were, as 13-year-olds, allowed to just do whatever we wanted and take the bus everywhere. We would go to the nude beach at Gay Head. I remember how amazing it felt to feel the sun on my skin. It was so freeing.

In high school, I was a runner, and some friends and I would run naked at night. And then, when I was in Boulder for college, I did the Naked Pumpkin Run on Halloween for a few years. Have you heard of it?

No, but that sounds very "Boulder."

It is. I think I found it somehow on the internet and you had to email somebody to get the information. You just show up at this person's backyard and carve a pumpkin upside down, so that when you put it on your head, you can see through it. And we're all drinking, like, pumpkin beer from the local brewery. Everyone's given a contractor bag and we walk together downtown. We go up to the top of a parking garage and everyone gets naked and puts their clothes in their bag. And then, when we're all ready, we run down the ramp onto the street and just run through the streets naked.

Amazing.

So I've always been curious about nudity. Everyone has insecurities about their body, and I certainly have mine as well. But here, there's like this special magic of the cloak of darkness. We're in a pretty dimly lit space right now, and I hope that gives people permission to choose to come in the dark if they want, and be naked with themselves and their friends. So far, I've only done community sessions at night with the goal of helping people feel safer to be naked if they want.

We have this idea of what bodies should look like, based on what we see in the media. And, of course, it's not at all true or reflective of what people actually look like. I think every time we give each other permission to see each other's bodies, it's just helping to validate that we're all human, we're all really beautiful, and, like, fuck the media.

This is shifting gears, but I just want to end by congratulating you on the success you're having. I saw you write that this has felt like the most "organic" thing that you've ever done. What does that mean to you?

I have really been honing my observation skills of witnessing what people want and trying to make that happen. And it just so happens that with this, my dreams are aligned with a lot of other people's dreams. So to put something out into the world that is wanted with such vigor is just really satisfying.

I was also privileged enough to already have a sauna on site, so my investment was—it wasn't zero, but it was close to it. And so each month and each year I was able to improve the space. A contractor I know gave me some advice. He said, "For the first several years, reinvest everything you make in your business and make it amazing." So that's what I've done. I've figured out how to live very frugally so that I can pay for the mobile sauna and the new sauna here. It's ironic that I'm having a hard time resting when that's what my business is about. But I always say, "I have summers off. That's my rest."

You might be the only Mainer to have that.

I know. And then it turns out nobody else is free.

Right.

So I just take my dog everywhere.
---
After talking with Jackie, she suggested I connect with her friend, Garrett Conover—a sauna-enthusiast and Maine photographer who recently published his first photobook, Sauna Magic. Below are a selection of photos and captions by Garrett.
To give context to his photos, here is an excerpt from an interview with Garrett published by The North American Sauna Society. Read the full interview
here
.
"To me, most sauna photography featured young, beautiful models inserted into un-fired saunas as backdrops. While well-composed, such images are mostly over-lit, overly-posed, and carry little bearing on the real essence of sauna. My first quest was for radiance and authenticity, so I made a self-imposed rule that all interior shots would be made in real context, in full heat. The more I got away with pushing the equipment into temperature extremes, the more I knew I could eliminate fakery, and allow actual radiance to infuse the specifics of each shoot.
My second self-imposed rule was to only shoot real sauna bathers in context, as their willingness to appear occurred. This approach guarantees diversity in age, physique, and human beauty, without imposition of ambient cultural tastes pushed by "youth and beauty" marketers and advertising myth-makers.
Overall it is very important to me to never violate the sanctity of sauna, and to be accepting and body-positive in all aspects of imagery."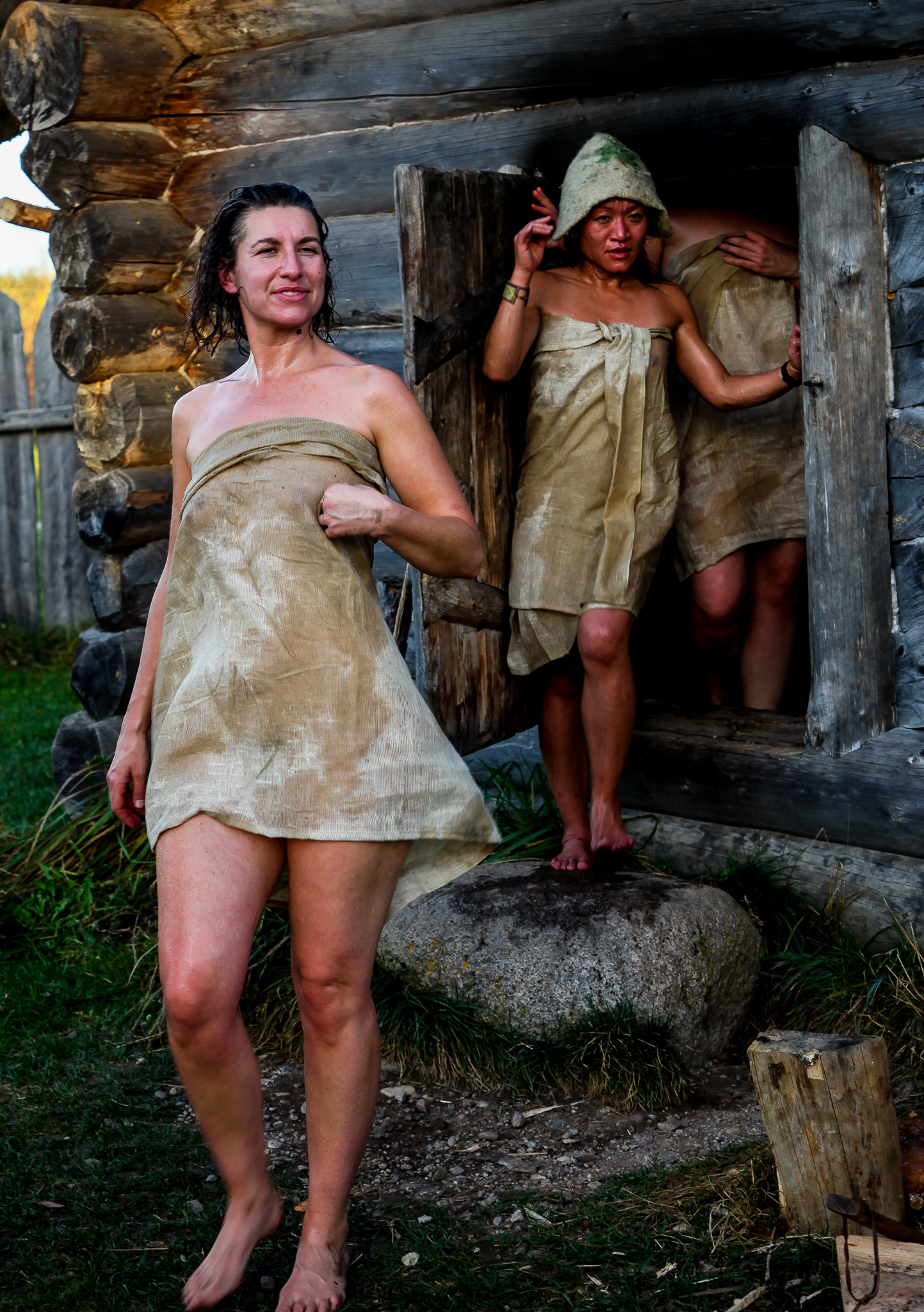 Garrett Conover was co-founder and co-leader of wilderness canoe and snowshoe and toboggan trips during a 30 year career as North Woods Ways in Maine, Labrador, Quebec, and occasionally Minnesota. He is currently a craftsman and fabricator at Sheldon Slate in Monson, Maine, and lives in a permanent wall tent along the Wilson Stream in Willimantic, a few paces from a lovely log sauna.
His book, Sauna Magic, was published by
Maine Authors Publishing & Cooperative
.
To purchase individual copies or wholesale for your store, please email
orders@maineauthorspublishing.com